I love a good challenge, whether its writing about a certain topic or styling for a specific person. When I got contacted by wedding website
Loverly
a while back to put together a compilation of sorts for this blog I thought why not! Out of the three venues for a wedding I chose the "City Glam" location. No more reason for this picking than the fact that I absolutely love an urban setting and nothing sounds more chic than a metropolitan evening soiree.
Although I have absolutely no plans for getting married in the near future (I am just now moving out of the house after all) I can certainly imagine planning what to wear and how to decorate for one. As you probably know by now, I do enjoy parties and festive events in general! Below you will find what I might wear to a City Glam wedding...maybe just maybe it'll give you some ideas:
The reason I picked this vintage inspired gown was because of it's perfect mix of sexy and sleek. The cutout in the front of the gown looks modern, but the lace inserts and collar keep it classy.
The headpiece is also an unexpected touch, playing up the trend of body chains and head chains that has recently emerged.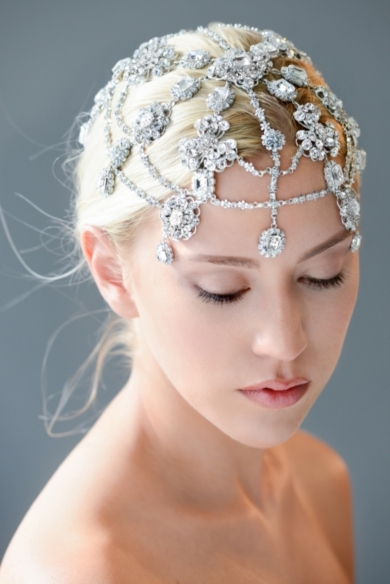 Runway inspiration
And finally, we must not forget shoes! As the old saying goes, "something blue" is necessary for the wedding look. I decided to make the blue stand out as the main factor making this outfit more city appropriate. Try colored heels for head turning statement pieces that will surprise your guests as you reveal them to dance!
$129.95 at
Nordstrom